I first heard about Unbroken when one of my Master's class kids did a presentation on the book and film. I was intrigued. A week later the opportunity for
Unbroken Legacy of Faith Edition
for
FishFlix.com
came up and I was thrilled.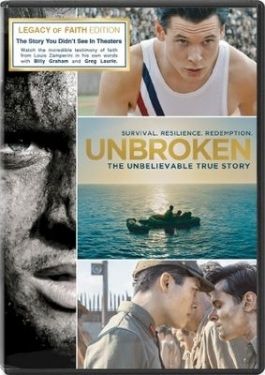 Flower and I watched this movie in the back of the van on the way to D.C. This movie is about an Olympian athlete who overcomes one adversity after another throughout WWII. It's intense, disgusting and heartbreaking at times. Because of his status as a world-class athlete, he is particularly targeted for cruel treatment, and at one point is asked to betray his country for special privilege's. He refuses, making the abuse all the worse. There are illusions to this man's faith, and one very powerful scene where he takes inhumane treatment so that another POW isn't abused. It was truly heartbreaking, but a powerful visual of what Christ has done for us. The faith aspect is always alluded to but it is not front and center in the movie. It would have made for a more powerful movie to include Louie's faith more prominently,in my opinion, bringing redemption to the terrible circumstances this courageous man endured. That being said, the overall quality of this DVD, from packaging to bonus CD was outstanding.
Included with the film is a bonus CD which superbly rounds out the film, delving into Louie's faith, ability to forgive and the Redemptive Power that sustained him in the face of cruel brutality.
Unbroken Legacy of Faith Edition by FishFlix.com
provides bonus CD included with the film that includes
Coming Full Circle: Louie's exclusive CBN interview

Faith Lesson: Louie discusses the faith that sustained him

Captured by Grace: The Billy Graham Evangelical Association and Louie Zamperini give an inspirational message of faith

Louie & Laurie: Pastor Greg Laurie interviews Louie Zamperini
This is an excellent film to watch for U.S. and Modern History, WWII studies, in a co-op or youth group, as a family night (with older kids) or simply as enjoyment for anyone who loves war stories and real life heroes.. I will say that some of the scenes are fairly intense, a bit much for my 12 year old. My older boys (ages 15 and 20), however, loved it.
For anyone who values quality, wholesome entertainment,
FishFlix.com
is a company that you'll want to follow and keep an eye on.
FishFlix.com
makes available quality, Christian and family films.
If you appreciate that, as I do, you'll want to check out the other great films available through
FishFlix.com
Follow
FishFlix.com
on
Social Media:
Facebook:
https://www.facebook.com/fishflix
Twitter:
https://twitter.com/christiandvd
Pinterest:
https://www.pinterest.com/fishflix/
Google+:
https://plus.google.com/+Fishflix/
YouTube:
https://www.youtube.com/user/familychristianmovie
For more reviews from the Excellent Crew:


@Golden Grasses 2008-2013. All photographs, artwork and text are the property of the owner unless otherwise stated. Don't miss a thing!
Subscribe to Golden Grasses
and get our articles right to your inbox!