We recently reviewed Adaptive Placement Test and Individualized Lesson Plan- by
A+ Interactive Math
.
We have switched math programs of late and I was curious to see what gaps we had. The kids went through the math tests at or below their grade level (Algebra 1 wasn't ready at the time of this review) and were graded on their ability to easily navigate the skills for that grade. Fortunately, our changing things up did not appear to have damaged anyone beyond repair.
The program tests the kids, identifying their skill sets by grade level, marking their areas of challenge, and then creates a program that specifically targets those problem sets.
It's really the homeschool mom's dream for skill based subject areas. By targeting weak or problem areas and creating a portfolio of lessons based on that, the kids can spend time shoring up their weak spots, instead of randomly hoping they fill in the gaps.
Each subscription accommodates multiple students, making it an affordable bargain for even large families.
Family Math Package
We did have some initial difficulty getting logged in. It was easily solved by a call to customer service, which was GREAT!, by the way. They patiently walked us through our difficulty and waited on the phone until everything was solved and working smoothly- love that!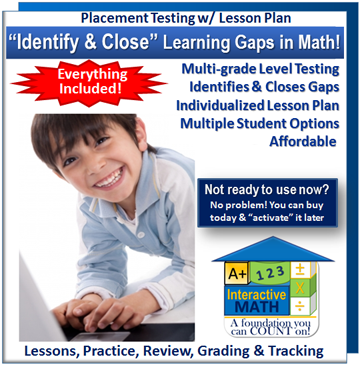 Also, we had signed up for Algebra but it wasn't quite ready. Cub is and that was frustrating to him. To be fair, math is usually frustrating to him, but he did not love that he was doing a placement test for 8th grade math while he was having to do an Algebra program (which he also does not love). Math is really just not his thing. Ever.
Flower did the program much more willingly but has decided that unless it's Rosetta Stone she really, seriously, does not like on-line learning. My kids are book in hand types.
I mention it though, because this program is all on-line. That can be a HUGE benefit to your kids and family or a HUGE detractor, depending on which way your kids go. For us, it was a down-side, even though the program is excellent.
Both of my kids had their own login, and could easily navigate the program.
They simply go to the student dashboard and pick a topic. Easy peasy.
They did the placement tests, and individualized lesson plans were created. Then they got to work. The program is well-done, easy to navigate, visually clean (thank-you,
A+ Interactive Math!).
There is everything to love about this program - straight-forward math learning, visually clean and stimulating, challenging, personalized, attractive and incredibly affordable.
Why not use
A+ Interactive Math?
It comes down to preference. Do your kids enjoy on-line learning? Do they work well independently? Do you have a computer dedicated to on-line student learning (or at least hours set aside for that)? If so, you will definitely want to add this to your list of math programs to explore.
A+ Interactive Math
offers a plethora of placement tests and other awesome freebies!
Free Math Placement Test
:
Free Family Math Packages
Free Software Download
Free Single Grade Level
Free eBook
Top 12 Reasons to use "Adaptive Placement Test & Lessons" program:
Top 12 Reasons to use "Family Math package" program
:
Current special sale (50% to 71% OFF) on our Family Math Packages and Adaptive Placement Test w/ Lessons program
.


@Golden Grasses 2008-2013. All photographs, artwork and text are the property of the owner unless otherwise stated. Don't miss a thing!
Subscribe to Golden Grasses
and get our articles right to your inbox!