Science for High School
is a unique science program developed by Bridget Ardoin, a homeschooling Mom of five, with a degree in microbiology from Louisiana State U to boot. To date Science for High School offers Physical Science, Chemistry and Biology. The manual set starts at $79.99 with a complete biology manual/lab set selling for $239.99. Science for High School is appropriate for kids in 8th -12th grade.
As someone who appreciates science, is married to a science minded man, and has science loving kids, I'm on the look-out for programs that engage the kids (i.e. they don't have to ask to do it, but it can't be mind numbingly boring), but also pass scientific muster with Dr. Dh, are not pedantic and teach the scientific method. With that in mind, we were not disappointed with High School Biology; au contrair, it met our expectations, and more.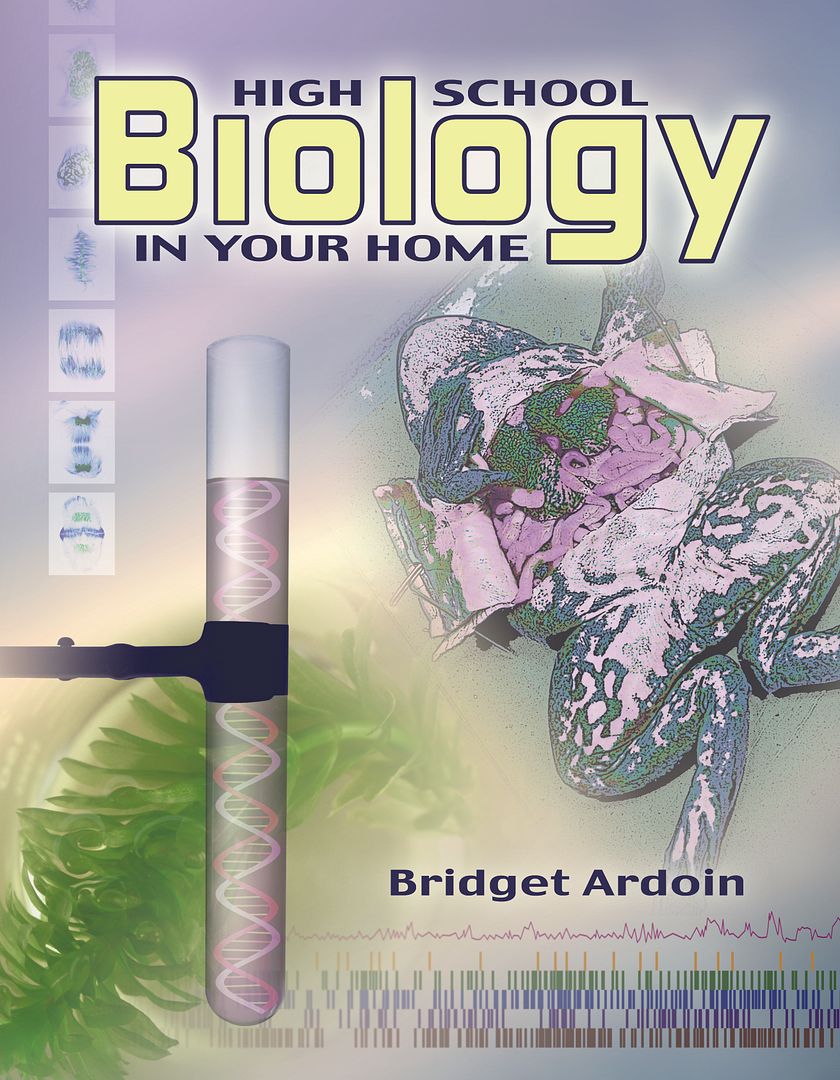 Cub and I reviewed
High School Biology In Your Home
.

This is not a text, per-se, it is a guide book for the teacher that includes all of the information that the student will work with, answers and quizzes, a dissection manual. It is a guide for discovery learning through high school science. We have always taken a Charlotte Mason/ Discovery directed approach to science in Elementary, switching to textbook for Jr. and Sr. High. This program continues the inquiry approach, leaving the read and regurgitate approach far behind. You can find the syllabus and sample
pages here
.

Once you have the TM and SM in hand, you'll just need to provide the microscope, slides and critters to dissect. These are readily available on-line and easily referenced in the TM. The lab notebook has simple drawings when appropriate.
So just how does discovery science in high school take place, you ask? The text asks a series of questions at the beginning of each week which the student then researches. The number of questions vary each week depending on the topic. The parent guide provides a minimum amount of information requiring the student to seek and find. Cub actually used our old high school textbook to answer questions, along with information from Tutoring Center science classes for the last two years, some Internet sites and various science books we have around the house. Finding the answers to the questions is up to the student. I did find that initially this took some guidance on my part and gathering science resources and having them handy in one place is helpful. Once Cub got used to the idea, however, he knew what to do. This is a great program to teach independence and research skills, because it's up to the student to find out, manage their time and get it done!
Then, at the end of the week, the student meets with the parent and shares the information that they've learned; requiring the student to have a great enough understanding to explain it to someone else! This teaches two things: 1) time management skills because the questions require steady attention to them. If the student waits until the last minute to do the research, they probably won't be able to get it done, and 2) ownership of the material. Even if the student is constantly referring to their notes as they narrate the information, this is the second time they've come into contact with it, plus as they narrate the info, they are often putting it into their own words, further cementing it in their memory. In addition, the components of the program incorporate visual, auditory and kinesthetic learning, touching on your students learning style strength, and honing areas that are less developed.
The student/teacher meeting was the component of the program Cub loved the most and it made the challenging work of the research aspect worth while- getting to share, in as much detail as he wanted, what he found out. He also took advantadge of uninterrupted Mom time to go off on bunny trails, adding in other science and techno-related stuff. If you have a talker who loves science, they'll love the weekly "meeting!"
After the research and parent/teacher meeting, comes the lab. As you would expect with a biology course, your student will learn how to use a microscope, slides, and dissection tools. Our microscope has been on loan to co-op and Tutoring Center more than it's been home the past couple of years and it was nice to have it out, where the kids could stop and take a peek into it as they walked by. There is plenty of observation, drawing and note-taking required for this course, with the kids getting an up close and personal perspective of what teeny tiny things look like!
In addition there are quizzes and tests included.
The course runs the through all of the major topics covered in a basic biology course; Semester 1 covers life, cells and the major body systems, while Semester 2 covers Animal Classification, Genetics, Careers in Biology and "The Great Debate." Love that. And it is truly treated as a debate, which I fundamentally appreciate.
What's to like about this course? A whole lot.
The TM manual is a spiral bound book that comes clearly tabbed; "First Semester, Second Semester, Quizzes and Final Exams, Dissecting Manual." The student manual comes shrink wrapped and pre-hole punched with the dissection manual pre-tabbed. Just find yourself a 3 ring binder and you are good to go! It is organized efficiently and well.
In addition, the microscope work and dissection required makes this a high school science lab class.
This course is updated yearly, ensuring continual improvement. While some of the questions might seem redundant, I don't find this a problem, as it actually gives the kids some continuity as they do research.
My kids are raised by a science nerd (Dr. Dh) and have spent hours on the NOAA and NASA web-sites as well as immersed in the tons of science books we own and have spent hours in the field(s) (literally), exploring, observing and narrating about what they've seen. What this program does is take what they do naturally and allow them to earn high school credit with it, incorporating discovery and research, narration, application. Furthermore, the manuals are not overwhelming in size, but manageable visually. That might sound silly but Cub has been known to take one look at a High School text and freak because it seems like it will take forever for him to get through it. He took one look at the student manual and felt confident that he could do it.
I even have high hopes for myself with a program like this, because if Chemistry is not offered through Tutoring Center, we'll definitely being doing Chemistry via Science for High School. A program like this might just get me over my Chemistry phobia. And I'm also re-thinking Physical Science for Flower- I think she will love this approach far more than areading a text book. This past year she's been reading for science and it's gotten to be a grind for her. She is much more of a hands-on learner and this approach definitly puts science in to the hands of the learner!
This is another product that allows the homeschooling community to access more difficult courses with ease and efficiency. Move over boring old science text-book. Bring on Science for High School!
Content -excellent
Presentation -excellent
Organization -excellent