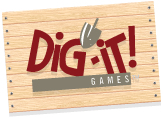 Dig-It Games
is a new and very cool company created by an archaeologist and middle school teacher

, Su

zi Wilczynski. Even though Dig It is a fairly new company, it's already won it's fair share of

awards

and

write-ups

.

Dig

-It offers on-line and IPad application games that build thinking skills and cultural understanding. The company's vision is to encourage their players to:
Discover new places, people and ideas
Analyze data
Explore the world around you
Learn something new everyday.
To date, Dig It has developed two games,
Mayan Mysteries and Roman Town
.

We received an on-line subscription to the Mayan Mysteries. Games are available on-line, via IPad app or in a classroom edition. Single user editions are $21. 99, with the classroom version going for $299. This game is designed for students ages 11 and older.

Mayan Mysteries Online Game
, according to Cub and Flower, is a blast to play and they were always eager to go and play the game. According to both, the strategy and game portion of Mayan Mysteries were fantastic- a total hit! Both Cub and Flower commented several times on the spirits and pagan aspect of the game, and while it wasn't a show stopper, it did cool their enthusiasm for the game just a bit. Also, we've done some studying of Mayan culture and they disagreed with some of the historical facts presented. Again, not a show stopper, as it just piqued their interest to find out if their understanding of things is the correct one, or not. According to Cub,
"It's a lot like Halo, in that I didn't like the story so much, but the game itself was absolutely awesome!"
The aspects of the game include archaeological discovery, deductive reasoning, Mayan Math, historical information and so much more!
The graphics are great, the program runs smoothly, and the puzzle aspects engaging. Both Mayan Mysteries and Roman Town would be a fun addition to a history, unit or cultural study, for home, co-op or classroom
One last note; I wanted to mention the great customer support Dig It provides. We ran into a glitch getting set-up and customer support was on it immediately, with a friendly email to let me know everything was ready to roll! Have I ever mentioned how much good, friendly customer support means to me in an age of inarticulate automatons? Major bonus, imho!
Content -excellent, with this caveat: if you feel strongly about spirits, or have a sensitive child, this aspect of Mayan Mysteries might bother you/your child.
Presentation -excellent
Organization -excellent