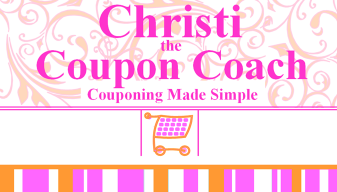 Are you a couponer? I've tried it but always give up. My friend Howie Morgan calls little scraps of paper, "Devils' food" ('cause they always get lost) and I think coupons fit neatly into that category. So, it was with some reservation that I read
Couponing Made Simple
by
Christi the Coupon Coach
. Christi is a Mom of four, living on a budget, like the rest of us, and a dedicated couponer. She shares a simple method of organization that keeps those small scarps of paper (i.e. coupons) neatly organized and easy to get too! For some people, that alone is worth the price of this book!
In order for couponing to justify the time it will take, you need to be a savvy couponer. Christi gives a quick overview of how to do this
here
and a detailed explanation in her book,
Couponing Made Simple
. Christi claims that you can save 60-70% on your groceries almost painlessly. The key to successful couponing is what Christi calls, "Stacking". It's a simple 5 -step process:
1. gather your coupons
2. check the sales
3. go shopping.
4. "Stack": sales, coupons and rebates - find an item on sale, use a manufactures coupons, a store coupon and a rebate.
5. Watch your savings roll in.
You might have to turn your menu planning on it's head in order to coupon. In other words, you'll shop based on sales, rather than by what everyone wants.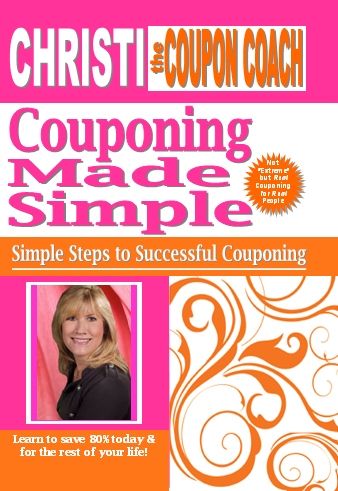 Christi also advocates "Celebrate and Share." Using her method you'll be able to afford and obtain items you might otherwise have been unable to. Celebrate! And, you might also be able to bless others with items that they couldn't afford. Share! Love these concepts. And I love how Christi actually implements them. Beautiful!
So, I tried it. I really did. But our in the middle of nowhere sorta high speed Internet made searching for coupons on -line tedious. In addition we are on a limited diet, eating mainly organic meat and vegetables (no dairy, sugar, gluten, corn, tomato, soy). I was encouraged to coupon at the local (45 minutes away) drug store and see the savings rack up on toiletries but honest to goodness, we just don't buy a lot of drug store products. The crunchier we get, the less consumer-oriented we are. Furthermore, we live way out of town and shop once a week. I usually run all of my errands on that day, so going to 2-5 different stores, in addition to regular stops makes it impossible to get everything done in the amount of time I have, meaning I have to pay for gas to get back in to town, or we are missing items we need each week.
In addition, I already shop sales (caught an amazing $1/gallon for BGH- free milk last week!) but the majority of places we do shop don't take coupons (Farmer's Market, Co-op, Sam's) or rebates. This book did encourage me to think about what places do though, and I did score a $35 rebate on a 5 gallon bucket of paint last week at the local UFixIt Store.
So, here's my thought. This is a great method even if I didn't personally save 70% on my groceries (and please, if you find a coupon or rebate for organic, free-range meat or vegtables, please, please tell me!). I still found a lot of value in reading the book and re-thinking how we are shopping; considering ways in which we can save, even given our limited and expensive diet. For those who don't have such limited restrictions, I highly recommend this book- great consumer ed for all ages!
The paperback is currently on sale for $18.00 through Amazon, while the ebook format for kindle is available for $4.99.
Content -great
Presentation -excellent
Organization -excellent