Classical Conversations
has been a leader in the field of home school education for several years and their newest product proves why. It's thorough, creative and maximizes the time your student spends at their school work. We had the pleasure of reviewing part of their new PreScripts Series: Cursive Sentences and Art Lessons.
This is a 3 in 1 program- history review, cursive review and art instruction. What's not to love?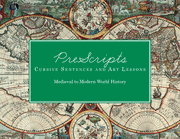 This is a comb bound work-book, which lies flat. It begins with a cursive overview and basic drawing instruction and then it jumps right in to the lessons. This book covers the Medieval to Modern Wold History sentences Classical Conversations students memorize during Cycle 2. Each lesson is 3-4 pages: 1) Tracing the sentence 2) Copying the sentence 3) Art lesson (not included for each sentence) 4) A blank area for the student to create their artwork. The art lessons cover a wide range of information such as using a grid to lay-out a composition, map-work, movement, graffiti,symbolism, and more. The image credits are listed in the back and correspond to CC history timeline cards.
Because we are long time CC fans, Flower had the history sentences already memorized. Now on to writing them in cursive and creating a piece of artwork to go with. For instance, the student will trace and then write out, "In 800 A.D. during the medieval period, Pope Leo III crowned Charlemagne Holy Roman Emperor of Europe." The particular art lesson focused on using a grid to create a composition. Flower wanted more room than was available in the book so she just did the art work in her sketchbook.

PreScripts is a painless way to get a whole lot of bang for your homeschooling buck: history review, copy work and art instruction, all for one low price. The great thing is, there is one for every age group. Check it out!
PreScripts Cursive Letters and Coloring
(Age 3-7)
PreScripts Cursive Words and Drawing
(Age 5-10)
PreScripts Cursive Sentences and Art Lessons
(Age 7-12)
PreScripts Cursive Passages and Illuminations
(Age 9-high school)
Each PreScript book is available for $12.99
This is another 100% winner.
Content -excellent
Presentation -excellent
Organization -excellent