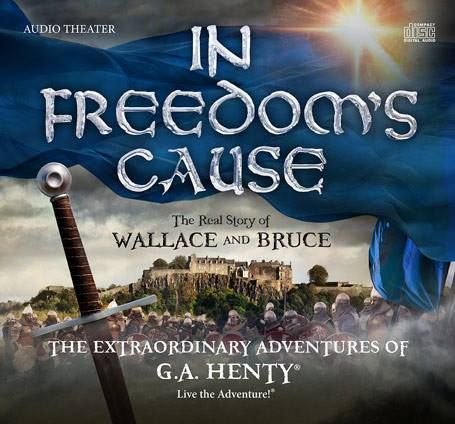 We are long time lovers of radio theater and G.A. Henty. Ignore the detractors who claim that Henty was a racist and a bigot. He was a man of his times, a compelling historian and a copious author of historical fiction (144 books to his credit)- . Pair the two together (Henty and radio theater), and you have some serious audio love going on in my house.
This audio theater production of the story of Wallace and Bruce (think BraveHeart) is fantastic. The real behind the scenes story of William Wallace and Robert the Bruce is about freedom, politics, who has the better army and a time gone by. It is also every bit as much about faith and patriotism. I had an interesting discussion with my newly turned 12 year old about what patriotism is, one's love for their homeland and just what that could or would mean. This is a discussion I had overlooked because of my own presuppositions, but one very much worth having. Loyalty- to ideas, people and places if what this audio-adventure addresses, and it such a winsome way. Just look at who they have on board:
What you have is a compelling story coupled with world class performers which gives us a radio theater worth listening to over and over again. In fact, the first day we got this out (a Saturday), Cub listened to it all the way through, not once, but twice! The cool thing about this dramatized version of the book is that it great history available to you even if you don't have time to actually sit down and read. We listened to this book on the way to and from town and the kids have continued to listen to it while cleaning the bathrooms and on the couple of evenings that we are occupied and they are not. It is good enough that you'll want to listen to it several times.
"To be a true hero, you must be a true Christian," G.A.

Henty
The bonus features are varied and rich, from a newly illustrated download of the book, a behind the scenes documentary, the official soundtrack and much more, all of it with professional and engaging graphics.
The study guide is 44 pages of good stuff, including questions based on the reading, thinking further, vocabulary, maps, info on Henty, William Wallace and Robert the Bruce, the history of Scotland, along with a Bible study guide and, again, terrific graphics.
Stay tuned for not one but two
new releases for 2015! The first of the two will be With Lee in Virginia, a tale of the American Civil War. These are great additions to your homeschool, for kids and adults of all ages, as an addition to history or literature studies, biography, or as a complete stand-alone unit study. This would also make a wonderful gift, or great accompaniment on a road trip. Keep your eyes on this company because there will be more products continually added, the quality is fantastic and the subject matter historically intriguing with great moral lessons woven throughout.
Find
Heirloom Audio Productions:
Facebook:
https://www.facebook.com/InFreedomsCause
Twitter:
https://twitter.com/InFreedomsCause
Google+: >
https://plus.google.com/u/0/b/112701427096792421838/112701427096792421838/posts
Pinterest:
http://www.pinterest.com/jointhecause

@Golden Grasses 2008-2013. All photographs, artwork and text are the property of the owner unless otherwise stated. Don't miss a thing!
Subscribe to Golden Grasses
and get our articles right to your inbox!