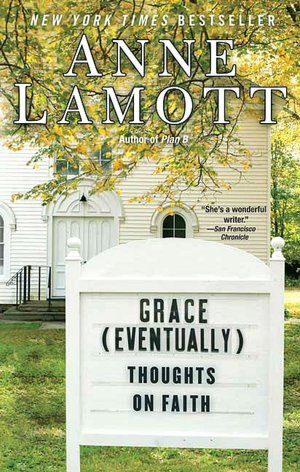 I finished another Anne Lamott book and it was...how shall I say....simplistic. She is still witty and lol funny and irreverent and disarmingly devoted. But often I wondered to what it is she's devoted. She's a 12 stepper and knows Jesus and has a whole lotta love for everybody. Well, unless your last name is Bush, or Rumsfield or Cheney or maybe even if you vote Republican. She is progressive, until it comes to men, and then bits of anger and wrath seep out and shock you. She has assisted in a suicide and had multiple abortions. She's a Rubik cube in dreads. I'm good with that.
What stopped me cold in my tracks as I read Grace (Eventually): Thoughts on Faith, was her comment, "I had to share my truth."
Seriously
. I thought following Christ meant we put our truth aside and entered in to knowing Truth. Like, it's holy, divine, and fall on your face fear inducing.
That's the problem I have with progressives and, in general liberals. It's situational. It's little "t" truth. It's grounded in what you can make sense of.
I like Lamott's ability to make people laugh, to tackle hard issues, to write transparently, to be open and full of candor. But I don't like the lack of personal integrity, even when it's coupled with humor. For instance, she writes of "accidentally sleeping with other wives husbands." Back when she was drunk. She acknowledges the hurt this has caused, the ill feelings, the bad ju-ju. But she doesn't acknowledge her part in the action. She drank, she chose, she adulterated.
So, where does that leave us then, really? Anne's a great writer. And she is true to her convictions. She is consistently liberal. She actively embraces the grace of God and the ugliness of life. But I'm looking for something else. I'm looking for something, someOne transformative. A Grace that doesn't leave us in the muck and mire but is truly divine and transcendent.
I did find this selection of essays less well written. The endings of many of them seemed vague and almost dis-joint.
I'll probably re-visit Lamott in the future but it's time to get off this side-street.