*1*
Flower's latest art series. Origami cats and dogs.
School this week was math, Anatomy and Phys, Latin/Greek, pre-law, Poetry, reading, read-alouds (not so much) and lots of fresh air. In fact, recess kinda ruled this week (true confessions). I am a serious homeschooler, but there's one thing you must understand. I am a serious must hang outdoors kind a girl, too. Especially if the sun is shining and it's over freezing. And we had coffee with Cyndi. We talked about all sorts of academic things. Like composting. And mental illness.
Cyndi rocks. Ruth does, too. So do my kids. And my husband. Does it matter if we got school done this week?
We had a small family crisis and recess was just what was needed.
*2*
It's been unseasonably warm. March is usually our snowiest month (I know because I used to be State Co for TeenPact and planning a state-wide week-long retreat for high schoolers across a state such as ours with fierce winters was/is no small feat). And yet, there is no snow. Au contrair, it is the 2nd day in a row we have taken our walk in short sleeves and Capri's. Not that I'm complaining but we are already kissing a drought. I have so seriously crossed over to even know that. I live in farm country, ya'll. To celebrate I planted
Spinach
and
Lettuce
today. The earth is warm, the sun is shining and even if it does get colder I'll just throw a cover over it. We'll be eating
fresh greens
in a couple of weeks. Bring it on, baby!
*3*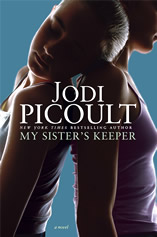 Taking a break from Sayers I picked up My Sister's Keeper by Jodi Piccoult. I haven't read anything else by her but she is either loved or hated on one of my on-line reading groups so I figured she was worth a shot. Good writing, nice character development, the theme was a hard look at the question, "does the good of the one out-weigh the good of the many." It was an interesting, fictional look at the life of a designer baby, created to save her sister from a rare form of leukemia with secondary love story thrown in to boot. The love story could have been cheesy (o.k., it was) but it worked because of a surprise element. Each chapter is told from a different character's perspective. A good read from a family system's pov. and included a surprise ending. The denouement was not believable and that detracted from the first 390 pages; I thought it weakened an otherwise good story. Overall, not bad, easy summer time reading.
*4*
Finished my 3rd Potato Chip scarf. This one in peach for KB. Time to move on to another pattern. I'm thinking socks. Not sure if I still own 4 needles in 1 size.
I have boat-loads of yarn from Gram's. We went to visit her 2 weeks ago. She is not doing so well. All prayers appreciated.
*5*
The Trampoline has been
THEBIGDEAL
this week since Dad helped set it up on Sunday. Cub and Flower have wanted to spend every spare minute (and even some ear marked for other things, like school) JuMpInG. They've jumped so much and for so long that their muscles ache and their knees are skinned. Simple pleasures.
*6*
Today is THE last day to sign up for the Learn Math Fast K-8th System. If you haven't yet, you can
HERE
.
The publisher will be drawing the winning name at 9 p.m. PST this FRIDAY and I'll be announcing the winner on Saturday morning. Thanks for all of the wonderful sign-ups, great comments and enthusiasm!!
Ya'll ROCK!
In other GREAT news I have the next curriculum review/give-away lined up. I'll be reviewing
Apologia's Complete Physics DVD
program in April and the publisher has agreed to have one ready to give-away to 1 Golden Grasses reader! Stay tuned for more details!
*7*
Laugh of the week.
Find more geek humor
How was your week?