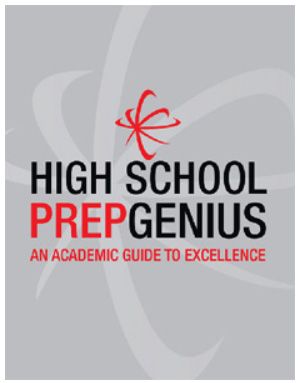 College Prep Genius

has come out with

High School Prep Genius. It has everything you need to plan for high school and beyond. There are 4 sections and several appendixes:
I: Introduction- this includes forms. I love forms. Forms to use during high school, the summer, as you plan for post- high school, etc.
II:Foundation for Personal Success
III: Foundation for Academic Success
IV: Foundation for Future Success
Appendix A: How to Build a Transcript
Appendix B: Talent Searches
Appendix C: Great books to get you started
Appendix D: How to reduce Test Anxiety
Appendix E: Admissions Terminology
If you homeschool or alternative school through high school, you'll want to get a hold of this one. It tells you, in clear, step-by-step detail what to do when to successfully navigate high school and college acceptance.
Ds 13 and I read several sections and discussed them. He wasn't very interested in filling out detailed accounts about his personal development or areas of interest but then he's not a mull-er, he's a get-er doner.
He also was very frustrated by some of the rhetoric in Chapter 3: "Own Your Personal Beliefs." I. too, found this section to be troublesome in the way that it handled issues of worldview, values and "Truth." If you are reading this as a person of faith, you'll want to read it with your student, or amend it to reflect your and your families belief system.
This book advocates creating a notebook for each high school student. We already had a file system in place, but I did appreciate and include some of the forms found in the introduction.
If you have a student from 6th grade up, are unclear about how to navigate the high school years, add this to your list of must buys. It is an affordable, inclusive way of approaching high school and college admission!
College Prep Genius offers other products and services. Sign up for their free newsletter here.
High School Prep Genius an Academic Guide to Excellence is available for $29.95.
Content -excellent
Presentation -excellent
Organization -excellent