I've heard it said that the educated person knows Math, Music and Latin. Which leaves me wondering if we'll ever get there. Thankfully, Adventus to the rescue for at least 1/3 of the equation! Quality music education, at your fingertips, for an affordable price. And yes, I
LOVE
this curriculum.
Our piano didn't make it through the fire. Flower has been asking for one since, so I was excited to have the opportunity to review the Adventus program. It is piano lessons, to be sure, but so much more. First of all you will need a MIDI keyboard, which you can purchase from the company, which is what we did. Great, fast delivery. Then you will need to decide which program you want to start with. You options are many, 7 levels of instruction, for ages 4 -18+: (A complete overview of each volume is available at
MusIQ HomeSchool)
: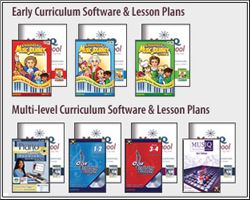 We were thrilled to have the opportunity to test out Adventus and yes, I love the program. In the interest of honest reviewing, however, I'm going to take a paragraph to share how it really went down. We ran in to serious and repeated difficulties downloading the program. We tried several times, spent hours on the phone with the company tech support and never did get the entire program due to corrupted files. In Adventus' favor, their tech support is stupendous, the gentleman that worked with us was patient, kind, responsive and perservering.
While gettig started was time consuming and frustrating, once we got the program we fell in love. We started with Piano Suite, which is intended for ages 10+. It begins with the history of piano and moves on to music theory. The Theory Thinker, with 6 levels to choose from, gives lots of visuals, and is the lesson section. In History Happens, the student can learn about composers and music of specific time periods. The Composer Corner allows students to actually learn composition and the Games areas reinforces a variety of Music Theory.
Piano Suite is more advanced, including music history and tons of theory. the Piano Player allows students to play different songs.
The Ear Training Coach is chock full of rhythm, melody, intervals and sight reading. A plethora of music learning to be had!
How we used this program:
Feeche (18) sat down and went to town. He has not spent less than over an hour every time he's used the program. Comments range from, "I love this program!" to "Thank-you for getting the Adventus!" to "I'm so glad we have this!" He had several months of piano lessons years ago and loathed them. He has also participated in a choral group for the past 3 1/2 years, which he loves. He is an excellent auditory learning and very artistic. Today, he spent 3 hrs on Adventus and composed a song! He is very motivated to learn to read music with ease and is excited about really getting into the Ear Training Coach program.
Cub (13) has used the program several times. He is a methodical student. In other words, he is slow, deliberate and deadly accurate. If you rush him, however, he becomes frustrated and makes mistakes. He is very intrigued by Adventus and, while planning his own schedule, was sure to include it. He finds the program challenging because you have to play along with the metronome (iow, there is an external "push."). He claims the program is difficult but, after a very full homeschooling day today, asked for the computer at 7 p.m. so that he could "do" piano.
Flower (10) is another of my highly auditory learners. If she hears it, she has it. She has been in tears twice while doing the Adventus program. I think she thought that she would be able to hear it and play it and the reality of learning to coordinate one's fingers and knowledge has been more challenging than she figured. She gets the theory just fine, but the playing has pushed her. We may go back and do the 3rd level of Musical Journey if she continues to have trouble. Which is the beauty of this program. There is no "one thing"- there is so much included, that covers such a wide range of interest and ability that you'll find a sweet spot, regardless of where you are starting out at.
In addition we'll also be using the history time-line to integrate music into our history studies (it includes hundred's of songs!). Perfect timing as we are just about to begin Famous Men of Medieval Times!
This is a program that we plan to use for the rest of the year and beyond! Adventus is a great addition to your homeschooling repertoire. Quality music lessons, just a keyboard away!
Price:
You can choose between either a purchase or monthly subscription. The
monthly subscription
allows access to
all levels
, for $10.95 per month. If you want to buy, there are many different options-including pricing with a keyboard if you don't have one. You can also take advantage of the
free trial
offered!
System Requirements:
Early Curriculum: Windows 7/Vista/XP/2000 or Macintosh OSX and an Internet connection.


Multi-level Curriculum:

Windows 7/Vista/XP/2000 and an Internet connection.
This is a fantastic program that I heartily recommend for the homeschooling family, or even private or public school. It's a great way to introduce music, a perfect accompaniment to irl lessons, a creative solution for the family that desires excellent music instruction for their family but can't fit it into their lives from a time or money pov.
Content- excellent

Organization - excellent
Presentation - excellent
If you want to see if MusicIQ HomeSchool is for your family, try the
7 day free trial
.